Compact Cut To Length Line
Model# C6018
The Compact Cut To Length Line design and heavy duty construction makes this our most popular system. The Programmable Feed handles materials 26 to 10 gauge, up to 72" wide. Our wide range of Drives, Controls, and applications assures you will get the dependability and accuracy you expect from a quality system.  You can view a video of this machine here.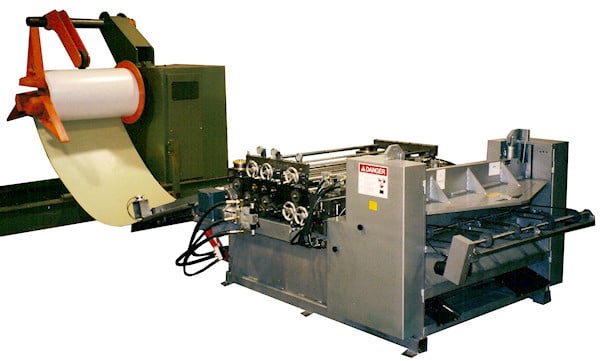 System shown with 10,000# Decoiler under fed with optional Threader table.
The Compact Cut To Length Line System features our quality Feeder Straightener and Shear Cutoff combined on a heavy duty all welded steel frame. We offer a wide range of Programmable Feed Drives and Controls for both Flying and Index Feed Applications.
Standard Features Include

Programmable Length and Batch Controls
Full Hardened Feed and Straightener Rolls
Over and Under Coil Fed Straighteners
Micrometer Setting (Straightener Rolls)
Pneumatic Clamping (All Pinch Rolls)
Hardened Infeed Guides
Entrance and Exit Cascade Rolls

Options Available include

Inline Notching and Punching
Decoilers
Coil Cars and Upender
Peeler and / or Threader Tables
Inline Slitting
Sheet Stackers
Rollformers
Tangent or Endforming